News
There is an unprecedented demand for puppies right now! The more flexible you are, the higher the likelihood you will find your best friend!
And we have had a run of unprecedented bad luck. We have bred eight bitches who have not gotten pregnant! They are Maizy, Chelsea, Trivia, Madeline, Olive, Root, Pearl and Kenzi. However, there is now a litter on the ground!
The pandemic affect has apparently ended!
Scroll down for information on puppies and on litters!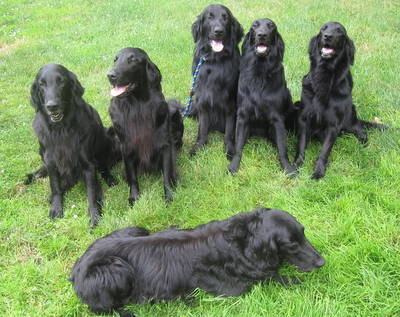 Five Generations of Blacfriar dogs!
From left,
Sydney 10, her daughter Minnie 6, her son Seamus 3, his daughter Zenyatta 8 months, Sammie 7 (Zenyatta's mother and Sydney's half sister),
and Amelia almost 13, in the foreground.
Amelia is Zenyatta's grandmother on her maternal side and her great, great grandmother on her paternal side!
Taken in July, 2011
Gus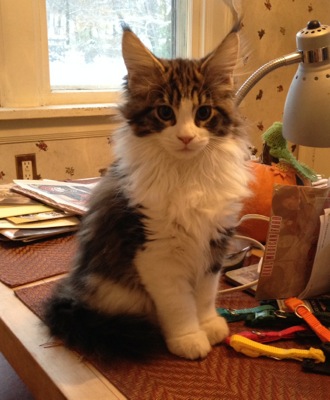 At three months!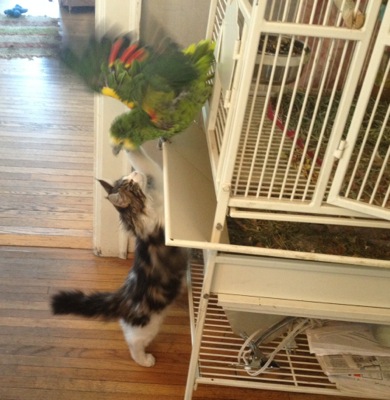 Meeting the bird! Oops!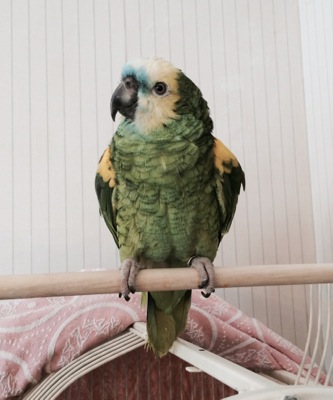 And this is Plato! now lead free and acting totally normally!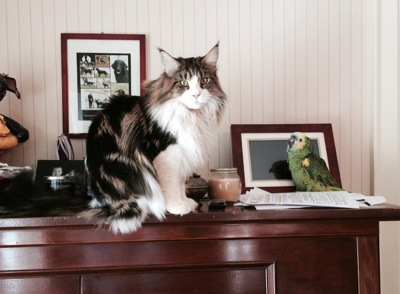 I just don't get why this bird doesn't want to be my "close" friend!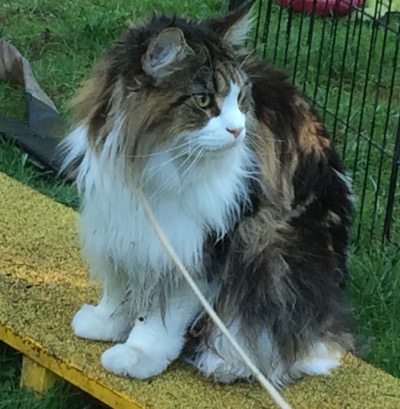 Gus at two!
He sure got a lot of coat!
And he has turned out to be a great mouser!
Special Wins
January 5, 2020: Bart BOB, Mariah BOS, and their son Maverick, Blacfriar The Eagle Has Landed, BOW! It was a family affair!
January 12: Blacfriar Fly Me To The Moon, Apollo, took a 4 point major in Washington state!
January 25: Mariah Best of Breed at Erie, PA!
January 26: Another family affair! Mariah BOB, Bart BOS, and Maverick BOW! Maverick now has his first major!
And a special shout out to Blacfriar Madeline who got two CDX legs and two Rally Master legs and Zenyatta who got two Rally Advanced, Excellent, Master legs!
January 31 - February 2: Mariah got two titles, a Time To Beat Preferred and a Master Fast Preferred! And both Mariah and Trivia got Triple Q's.
February 11: Two dogs from my breeding got tributes at Westminster. Baxter got Select Dog and Prince got a JAM! Both dogs were bred by jake Cassaday and both come from Blacfriar!
February 16: Kona, Ch. Blacfriar Learning To Fly, owned by Aaron and Dana Pelto, took Select Bitch, Select Bitch and Best of Opposite Sex this weekend in Colorado to finished her Grand Championship!
March 8: Zenyatta now has a Rally Master title!
All Show Activity Has Stopped!
2020 Titles
Nobody has been doing much in the midst of this pandemic. But things are slowly coming back. Soon we will have news!
Flat Coated Retriever Specialty 2018
The Specialty was held in York, PA with the field events at Rebel Ridge in Elton, MD!
Hunt Tests started off the Specialty on Saturday, May 19th! Unfortunately for all of us, it was a day of great rain! I only had one dog entered and that was Zenyatta in Senior Hunter. She went right out on the land double, unable to find one bird in all that water. She must have passed within a couple of feet of it but a pouring rain holds down odor and she just couldn't get it! But Bart did us well earning another Junior Hunter leg despite the conditions!
Sunday, May 20th was Working tests and singles tests. Trivia made her first attempt at a WCX! She was steady for three land birds, a true miracle! and then refused to pick up a wounded flyer! She needs more work on picking up live birds!
Monday, May 21st, was agility and we had a nice day! Zenyatta qualified her standard run and her fast run! Madeline qualified her JWW's run! And Mariah qualified her first Open run ever by taking first place in Open JWW! Lexi, Mariah's sister, got two novice legs! And Nemo qualified Novice Standard, Novice JWW and Novice Fast! The funnest thing was that 3 out of the four placements in Master Standard went to dogs out of the Blacfriar breeding program!
Tuesday was Sweepstakes for Veterans and Gun Dogs.
Stitch took Third in a fairly large Veterans 11+ class, not bad for a veteran who could be in the 13+ class if they had one!
Zenyatta took Third in a very large Veterans 7 - 9 class! and Rozie took Fourth!
Bart took 4th in the huge Gun Dog dogs, Junior Hunter class!
And Zenyatta took 3rd in the large Gun Dogs bitches, Junior Hunter Class! And Madeline and Trivia both made the cut!
Wednesday was Dog Day! We don't have very many dogs to show, mostly bitches. Jake took second in Bred By with Arthur!
But they did have Juniors this day and it was won by Dana Pelto showing her 7 month old puppy, Kona! WOW!
Thursday was Bitch Day! and we have lots of bitches!
Honey, Madeline's 8 month old daughter, owned by Gayle Haak, took Third in the Puppy 6 - 9 sweepstakes!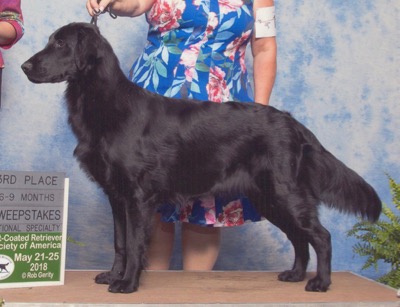 Honey at 8 months!
And Kona, Trivia's 7 month old daughter, owned by Aaron and Dana Pelto, took Fourth in the Puppy 6 - 9 class!
Stitch was up first in Veteran's 11+! She made the cut, not bad for a 13 year old!
Zenyatta took Second in the large Veteran's 7 - 9 class.
Trivia took 4th in Hunting Dogs, Started!
And Madeline took 4th in Hunting Dogs, Intermediate!
And Friday was Best of Breed day! We had several dogs in Best of Breed. Bart, Gracie, and Gunner all made the first cut. Bart and Gracie went on to the last cut! Unfortunately, that was the end for the Blacfriar dogs. One Seamus son, Dover, Timberblac's True Brew, got a JAM!
And Gracie got second in the Brood Bitch Class!
And Bart got fourth in the Stud Dog Class!
And at the banquet, Rozie, Randy Grimm's bitch, was inducted into the Hall of Fame! That is truly an honor!!!
Flat Coated Retriever Specialty 2017!
The Specialty was held at Peek'n Peak, put on by the wonderful folks in the Western NY area as well as many great folks who wanted to help from other areas!
So the first thing up was a Tracking trial. Unfortunately none of our dogs were in this as none of them have ever trained in tracking! Maybe next year!
Then came the Hunt Tests on Saturday, May 13th. Both Rozie and Bart did us proud! They both got a Junior Hunt leg and, in Rozie's case, that made her title, JH!
And that put Rozie eligible for the Hall of Fame next year!
On Sunday we had the working tests. And again, Bart and Rozie did fantastic. Both got their WC's.
Monday was agility day! Berry got a double Q! And Sera, Debbie Ting's young girl, and Cece, Betsy Olson's young girl, both got a double Q's in novice! Bodie got a double Q and his AXJ! And Trivia got a Novice Fast leg for her NF!
Tuesday started the conformation and obedience show!
Sunny was first up with a Third in Veteran's Sweeps 9 - 11!
Stitch got a Second in Veteran's Sweeps 11+!
Then Trivia got a Novice B leg for her first leg toward her CD!
And in the evening, Stitch, Zenyatta and Madeline all participated in the Ring of Honor! Stitch has been in the Hall of Fame since 2013 but this was the induction year for both Zenyatta and Madeline!
Wednesday started the regular conformation and was dog day!
First up was the 12 - 15 month class which was Won by Argon's Purple Rain, Prince, bred by Jake Cassaday. Blacfriar Winner Takes All, Gunnar, Zenyatta's son and Mariah's brother, took Fourth in that class. Then Luka, Blacfriar Happy Trails, took Third in the American Bred Class. And Sunny took Second in Veteran's 9 - 11! In the meantime, in Rally, Trivia took a Rally Advanced leg to get her RA and Mariah took a Rally Novice leg to get her RN, her first title.
And Stitch qualified Veteran's obedience and placed Fourth in the class.
Thursday was bitch day!
Argon's Lady Echo, Echo, bred by Jake Cassaday, took Third in the 6 - 9 puppy class. Madeline took Third in the Working Bitch class. Eve, Blacfriar Auld Lang Syne, took Fourth in the Veteran's 7 -9 class. And Stitch took Third in the Veteran's 11+ class.
Friday was Best of Breed day!
Ch. Blackmoor Puppy New Year, Raven, bred by Laurie Dux and Ch. Fairytail Thomas Beau Jefferson, Bennie, bred by Randy Grimm, both got Cuts in Breed. And Timberblac True Brew, bred by Jennifer Martin, got a Judges Award of Merit.
And Zenyatta, with her Get, Nemo and Mariah, took First in the Brood Bitch Class and Stitch with her Get, Madeline and Bart, got Fourth in the Brood Bitch Class!
And Berry, Fairytail Halle Berry, owned by Debbie Ring, Rosie, Fairytail Rosa Parks, owned by Randy Grimm, and Trivia, Blacfriar Trivial Pursuit, owned by me, all took Hat Trick Awards, qualifying in three different areas of endeavor!
And so ended the FCRSA National put on in Western New York!
It was a beautiful show at a spectacular venue!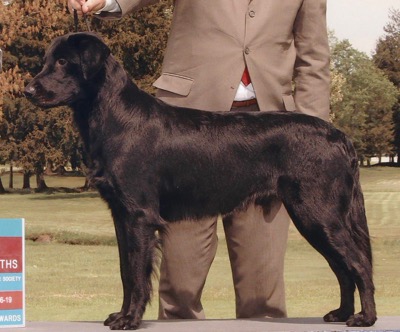 Gunnar taking Fourth in 12 - 15 dogs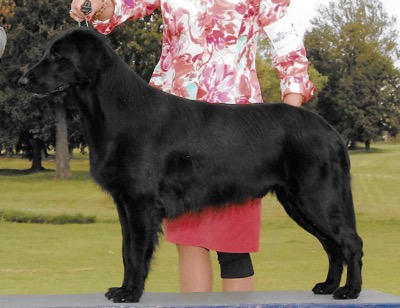 Luka taking third in AmBred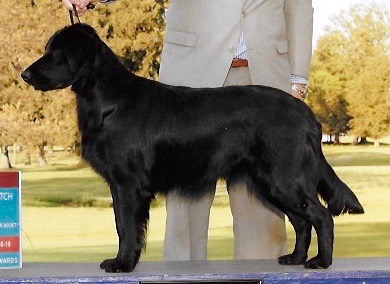 Madeline taking third in Working Bitches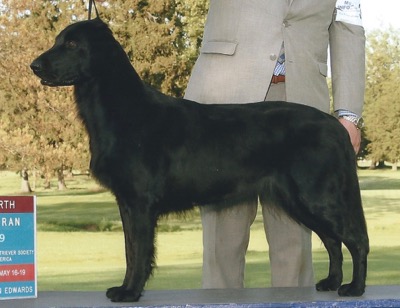 Eve taking Fourth in Veteran Bitches 7 - 9
Stitch taking Third in Veteran Bitches 11+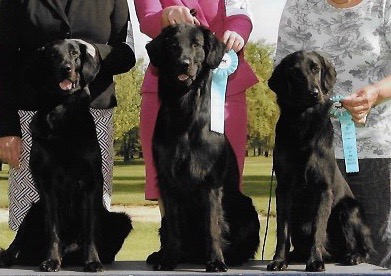 Zenyatta with Nemo and Mariah won the Brood Bitch Class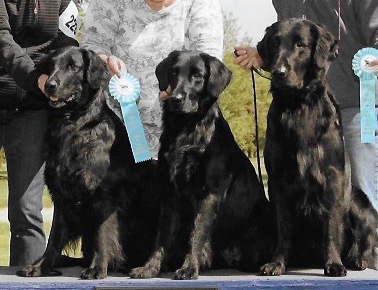 Stitch with Madeline and Bart got 4th in the Brood Bitch Class
Flat Coated Retriever Specialty 2013!
Our Specialty started out with a bang!
Ellie, Ch. Blacfriar Star of Elbereth, owned by Maggie Minkiewicz, got her Master Hunter!
That is so difficult and Maggie and Ellie worked so hard and did such a wonderful job! I was so thrilled!
Then we went on to the Sweepstakes where Norah took a 4th in a class of over 20 girls in the Junior Hunter Gun Dog class. We were thrilled for Norah who is now 10 and who we didn't think was competitive with the young ladies in this class. Guess she was!
The regular classes started out slowly and we were not doing what I thought we should. But timing is everything and we apparently had a bunch of young dogs who were just not in the right place for their classes. Some were just too young for the class, some not mature enough, and some not in coat.
Finally, Ruby, Butterblac's Ruby Back in Time, took first in the Open class. We didn't breed Ruby but her father is our foundation dog Darktarn Blac Phineas.
Then Stitch, Blacfriar A Stitch in Time, won first in the Field Trial bitch class! That's a nice win!
Friday was Best of Breed day. And we had several dogs in for Best of Breed.
Arthur, Blacfriar Arthur Big Boy Crudup, was first in and didn't do anything.
Seamus, Blacfriar Seamus McGrath, was second in and didn't do anything.
How disappointing as both of these dogs are so very nice!
Then Zenyatta went in and made the first cut! Excellent! She's nice but so young, not quite 2 1/2.
Then she made the second cut in bitches!
Then the judge called in the 6 veterans, the two field trial class winners, the two working class winners, and the winners dog and bitch!
And she cut to one veteran, one field trial class winner, and the winner's dog and bitch!
Stitch was still in, now the winner of the field trial classes and going to get a JAM! How exciting!
And finally the judge started pulling her choices for Best of Breed, Best of Opposite Sex, Best of Winners, Select dog and Select bitch!
And there was Stitch in the final five! Oh, my God!
And she got it!
Best of Opposite Sex!
And then Zenyatta got a JAM, Judges Award of Merit!
And Stitch topped off the day by getting inducted into the Hall of Fame!
I wonder if any other dog has ever gotten BOB or BOS at the Specialty the same day they were inducted into the Hall of Fame?
What a day!!!
What a Specialty!
Master Hunter, Best of Opposite Sex, and a Jam and a Hall of Fame! And a bunch of obedience and rally Q's for Randy, Maggie, and one for me! And an agility Q for Zenyatta as well!
Both Randy and Maggie also won the Grits award, a ribbon for qualifying in three different areas with the same dog!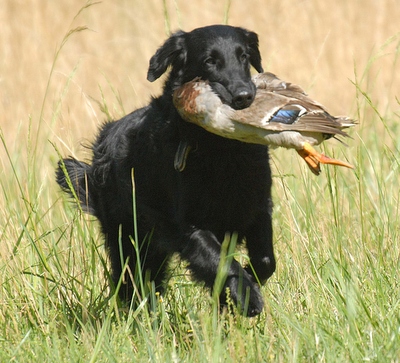 Ellie in the field getting her Master Hunter!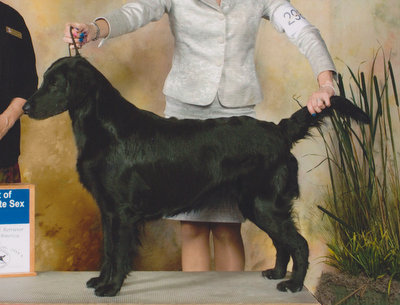 Stitch getting Best of Opposite Sex!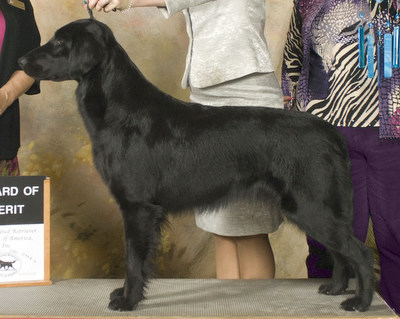 Zenyatta taking a Judges Award of Merit!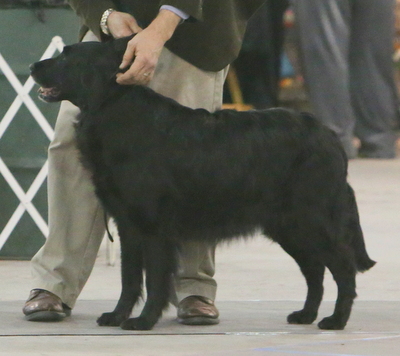 Norah taking 4th in the JH Gun Dog Class!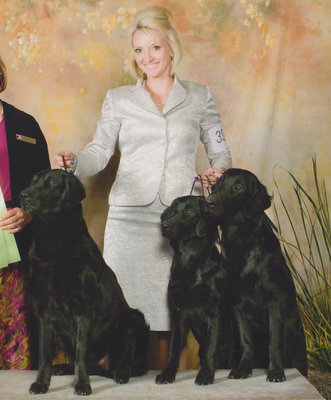 Stitch was third in Brood Bitch!
That's Madeline and Bartholemew at 6 months old!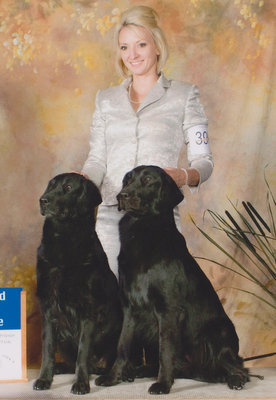 And third in Brace!
Zenyatta and Stitch!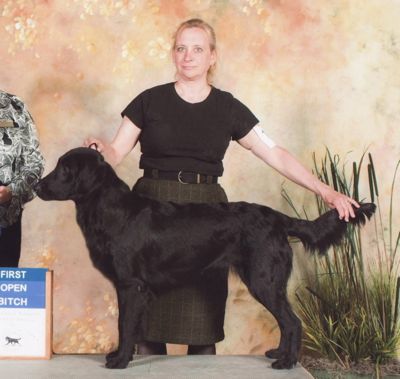 Ruby won the Open Class!

Puppy News!
Echo is pregnant!
And Echo had a litter of 8 puppies on March 28th! She has 5 females, all liver, and 3 males, 2 livers and 1 black!
And these puppies have all gone home!
Jake has bred Olive, Ch. Argon's Princess Olive the Other Reindeer, to Ben, Ch. Argon's Lord of Lightning. She will be due June 3rd!
And Olive is pregnant!
Olive had a lovely litter of 8 puppies on June 5th. She has 4 dogs and 4 bitches, all black except one liver male! All are doing well on June 8th!
And Jake bred Chelsea, Ch. Argon's Lady Chelsea Rogers to Birch, Ch. Argon's Lord Blue of the Night, a week after Olive! And Chelsea is also pregnant! Finally, we are getting some puppies! And Chelsea is due June 11th!
And Pam Centola bred Kensi, Ch. Clearwater Last Time Around, to Ch. Ebonaire Clearwater It's Now Or Never, starting on May 8th! Of course it is too early to know if she is pregnant but we're hopeful! She will be due July 10th!
And Kensi seems to be pregnant!
And my girls are cycling! Madeline is in season and already at her boyfriend's home. Madeline, GCH Blacfriar Madeline, is being bred to Can Ch. Butterblac One for the Money! Trivia is also in season but she is not going to be bred. We are only waiting for Mariah!
And Madeline has had a first breeding! If she is pregnant, she will be due July 25th!
And Mariah, GCH Blacfriar Speaker Of The House, has also been bred! She was bred to Lukas, Ch. Argon's Jedi Night! She is due August 5th!
And Randy Grimm of Fairytails has bred Maizy, Ch. Fairytails Amazing Aurora! She will be due August 8th! And she has also been bred to Lukas, Ch. Argon's Jedi Night!
The above litters are recommended litters where I know the quality of the dogs and the integrity of the breeders!

Evaluation Service

Blacfriar is now starting an Evaluation Service! For a long time, I have been evaluating litters for folks who have dogs that I've bred or who have bred to dogs that I've bred. This service has always been free and will continue to be so! I do expect to have my travel expenses paid but that's all. This service will continue to be provided for anyone that has my dogs or breeds to my dogs.
However, I am now extending this service to anyone else who'd like to have me look at their litter. I am basically interested in looking at Flat Coats but would consider some other breeds as well. If you have another breed, you need to consider that I do not know as much about type in other breeds although, for many breeds, basic structure is the same.
There will be a cost for this service depending on how much time I'll have to use. If you can get me at a dog show or trial and I only have to look at the litter, the cost will be less. If I have to spend a day traveling, or even two days traveling, it will be higher.
Having had a very successful breeding program for the last 30 years, I will tell you that one of the keys to successful breeding is to pick the right puppies at each generation! That's what this service is about!