Presents
Am/Can GCH. Blacfriar Speaker Of The House Am/Can CD, Am RE,NA,OAJ,MXP,MJP,OF,MFP,T2BP,DN
Sire: Am/Can Ch. Blacfriar Viscount Monck
Dam: GCHB. Can GCH, MACH2 Blacfriar Zenyatta Am/Can WCX, Am RM3,RAE2,CD,PCDX,SH,MX,MXG,MXJ,MJB2,OAP,AJP,MFS,OFP,T2B2,SCN,SIN,DSA, Can CDX,JH,AgI,AgXJ,NP
Whelped: 3/11/16


OFA Eyes: FR-EYE645/2F-PI, Hips: FR-6080G24F-VPI, Elbows: FR-EL2994F24-VPI, Patellas: FR-PA2690/24F/P-VPI, Color Tested: BBEE

Mariah at 6 weeks!

Mariah winning Puppy Group at 6 months!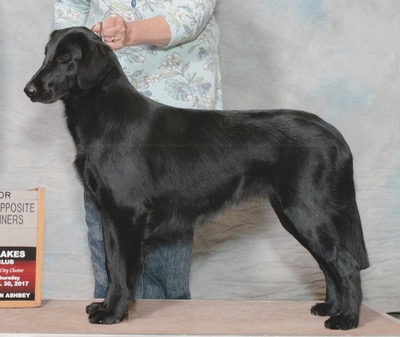 And taking a major at a year!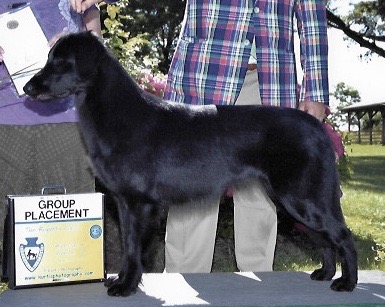 Mariah taking a Group 4 a day before she finished!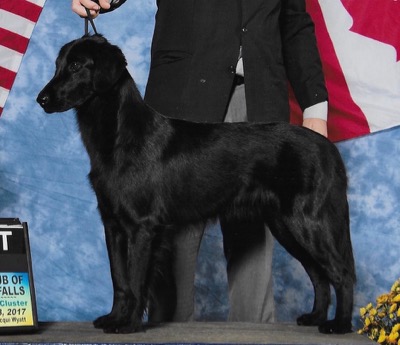 Mariah getting her Grand Championship!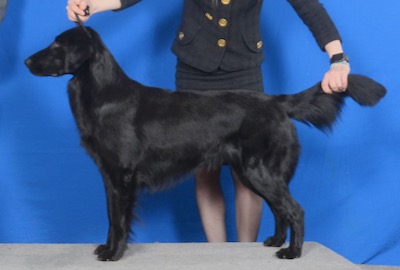 Mariah getting her Canadian Grand Championship!
Achievements: Mariah is growing up! She's learning agility and she loves going to the field and watching the other dogs work. She's force retrieved and beginning to work as well. And she is also showing and is an American/Canadian Grand Champion.. And she's now had her first agility runs and is showing some real ability in this area! She's getting lots of skills and having lots of fun! She's smart, athletic and biddable. Who can ask for more!
Pedigree

Parents
GrandParents
GreatGrandParents
SIRE

Am/Can Ch. Blacfriar Viscount Monck

Am/Can Ch. Lightfoot Sugar On Snow

Can Ch.Light-Foot's Top O' The Morn

Am/Can GCH. Blacfriar A Stitch In Time Am/Can CDX, Am RE,SH,WCX,AX,AXJ,MXP8,MJP6,MXPG,MJPS,OF,MFPB,T2BP2,PAX, Can JH,WCI,AgX,AgIJ
Ch. Gamekeeper's Time And The-Bell CD
GCH, Am/Can Ch. Blacfriar Play It Again Syd Am/Can UD,WCX, Am VER,RE,SH AX,AXJ,MXP2,MJP3,MXPB,MJPB,NF,XFP, Can AgI,AgIJ

DAM

GCHB, Can GCH, MACH2 Blacfriar Zenyatta Am/Can WCX, Am RM3,RAE2,CD,PCDX,SH,MX,MXG,MXJ,MJB2, OAP,AJP,MFS,OFP,T2B2,SCN,SIN,DSA, Can CDX,JH,AgI,AgXJ,NP

GCH, Am/Can Ch. Blacfriar Seamus McGrath JH
GCH, Am/Can Ch. Quillquest Etched In Stone Am/Can WC, Am RN,JH,OA,AXJ,WCX
Am/Can Ch. Blacfriar Minnie Mouse RA
GCH, Am/Can Ch. MACH Blacfriar I Am Sam-I-Am Am/Can UD,WCX, AmVER,RE,SH,MXB2,MJC,MXP3,MJP4,MXPB,MJPB,MXF,XFP,PAX, Can JH,AgX,AgXJ
Ch. Flat Castle's Brown Cole JH
Am/Can Ch.Can OTCHX Blacfriar Amelia Earhart Am/Can JH, Am UDX,VER,RE,WCX,AX,AXJ, MXP3,MJP5,MXPB,MJPS,NF,OFP,PAX, Can WCI,AgI. AgIJ