Presents
Am/Can GCH. Blacfriar Trivial Pursuit Am/Can CD,JH, Am RM2,RAE2,WCX,AX,AXJ,MXP2,MXPB,MJP2,OF,MFP,T2BP,SCF,SIN,DS, Can WCI,AgN,AgNJ
Fourth Flat Coated Retriever in Agility in Canada in 2017
Sire: GCHG Bertschire Triple Play BN,PCD,RAE,AX,AXJ,NF,NAP,NJP,CA,DJ
Dam: Am/Can GCH. RACH Blacfriar Madeline Am/Can CD,JH Am PCDX,RM4,RAE2,WCX,MX,MXJ,MXS,MJG,OAP,AJP,XF,OFP,T2B2,SCN,SIN,DS,CanAgI,AgIJ,NP,WCI
Whelped: 7/21/15
OFA Eyes: FR-EYE646/10F-VPI, Hips: FR-6047F29F-VPI, Elbows: FR-EL2961F29-VPI, Patellas: FR-PA2658/29F/P-VPI, Color Tested: BBEE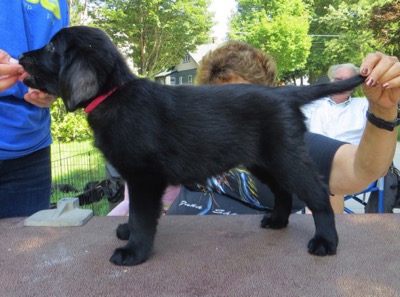 Trivia at 6 weeks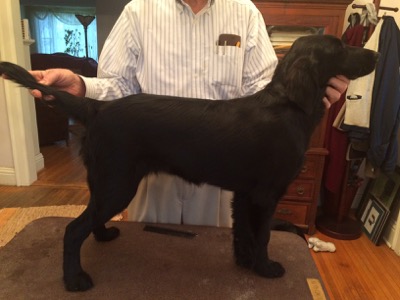 Trivia at 5 months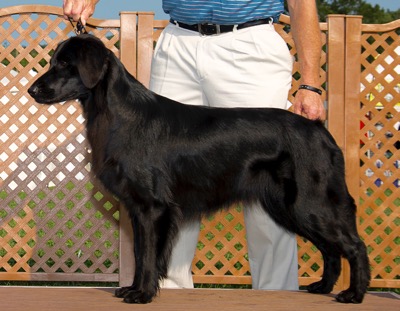 Trivia, 2 years old, getting her second major of the weekend!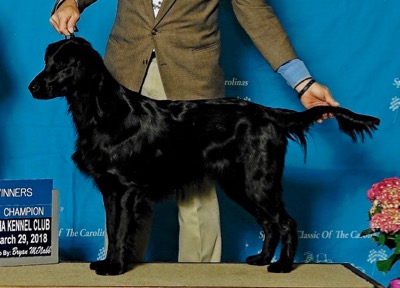 Trivia is an American Champion!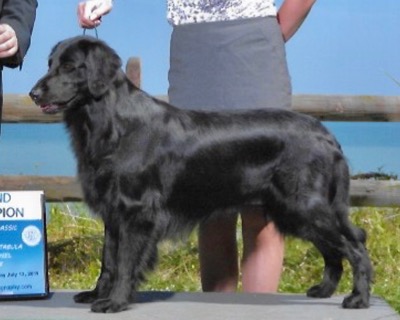 Trivia is an American Grand Champion!
Achievements:
At six Trivia is the best working dog we have ever had! She has 40 titles in six different areas, conformation, agility, field, rally, obedience and dock diving. She is the youngest dog we've ever had get a Working Certificate or a Junior Hunter! And she's a total delight to work with. She gets the concept and quickly develops the performance. She's so easy to train! She's calm cool and collected and seems to be afraid of very little!
Pedigree

Parents
GrandParents
GreatGrandParents
SIRE

GCH Bertschire Triple Play BN,PCD,RAE,AX,AXJ,NF,NAP,NJP,CA,D1

GCH, Am/Can Ch. Norwood Ace Dresser Am/Can WC, Am JH

Bolfoer Lad at Torwood
Torwood Pyjama Party
Ch. Swallowsflight Coal Kissing Caper JH
Riversflight Quipar
Ned Ch. Swallowsflight Mercury Mandy

DAM

Am/Can GCH. RACH Blacfriar Madeline Am/Can CD,JH,WC, Am PCDX,RM4,RAE2,MX,MXJ,MXS,MJG,OAP,AJP,MFB,OFP,T2B2,SCN,SIN,DS, Can AgI,AgIJ,NP,WCI

GCH, Am/Can Ch. Blacfriar Seamus McGrath JH
GCH, Am/Can Ch. Quillquest Etched In Stone Am/Can WC, Am RN,JH,OA,AXJ,WCX
Am/Can Ch. Blacfriar Minnie Mouse, RA
Am/Can GCH. Blacfriar A Stitch In Time Am/Can CDX, Am RE,SH,WCX,AX,AXJ,MXP8,MJP6, MXPG,MJPS,OF,MFPB,T2BP2,PAX, Can JH,WCI,AgX,AgIJ


Ch. Gamekeeper's Time And The-Bell CD
GCH, Am/Can Ch. Blacfriar Play It Again Syd Am/Can UD,WCX, Am VER,RE,SH AX,AXJ,MXP2,MJP3,MXPB,MJPB,NF,XFP, Can AgI,AgIJ