Presents
GCHG, Am/Can Ch. Blacfriar Bartholomew Cubbins JH,RE,BN,CD,GN,NA,NAJ,WC
Sire: GCH, Am/Can Ch. Blacfriar Seamus McGrath JH
Dam: GCHB, Am/Can GCH. Blacfriar A Stitch In Time Am/Can CDX, Am RE,SH,WCX,AX,AXJ,MXP8,MJP6,MXPG,MJPS,OF,MFPB,T2BP2,PAX, Can JH,AgX,AgIJ,NP
Whelped: 10/17/12
Eyes: FR-EYE91/24M-VPI, Hips: FR-5516G24M-VPI, Elbows: FR-EL2473M24-VPI, Patellas: FR-PA2310/24M/P-VPI, Color Tested: BBEE KBKB aa (recessive black)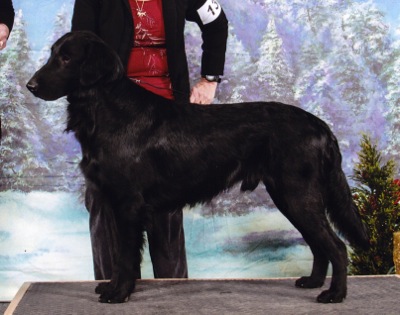 Bart's a Canadian Champion at 13 months!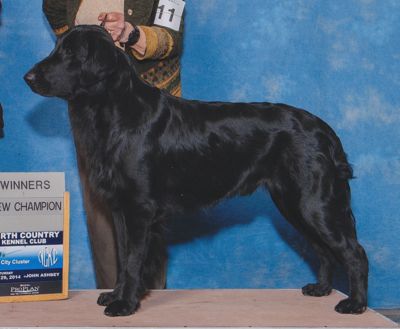 And an American Champion at 17 months!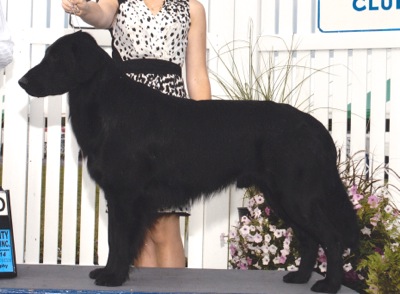 Best of Breed for 5 points at 21 months!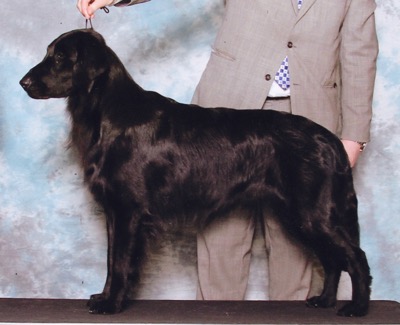 Winning a JAM at the 2015 Specialty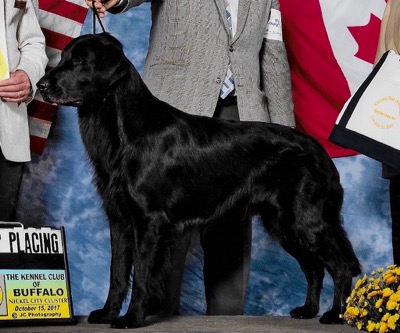 Taking a Group 3 at the Buffalo Show in 2017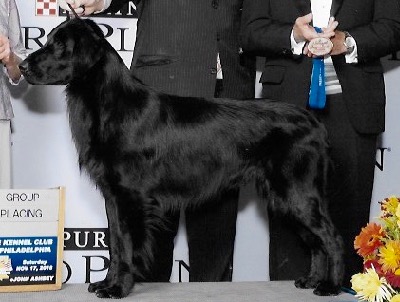 Taking a Group 3 at the National Dog Show in 2018
Achievements: Bart is the first male I've owned in 10 years. At 8 weeks, he was so pretty that I just couldn't resist keeping him. So far, he's lived up to that promise. He's big, beautiful, and temperamentally fantastic, one of the sweetest, nicest boys I've ever met. And he has great potential in obedience, field and agility. He lives with Randy Grimm and we own him together but he frequents my house often and we love him as well. He's such a lucky dog to have two such loving families! And at 17 months, he is finished! And at 22 months, he is a Grand Champion! And at 5 he is out showing as a Special. He finished his Bronze Grand Championship very quickly and is now a Gold Grand Champion!
Pedigree

Parents
GrandParents
GreatGrandParents
SIRE

GCH, Am/Can Ch. Blacfriar Seamus McGrath JH


GCH, Am/Can Ch. Quillquest Etched In Stone Am/Can WC, Am RN,JH,OA,AXJ,WCX

Ch. Agrebo's Hunter CD,NA,OAJ
Ch. Quillquest Phens Born To Win CD,JH
Am/Can Ch. Blacfriar Minnie Mouse, RA
Ch.Gamekeeper's Time And The-Bell CD

GCH, Am/Can Ch. Blacfriar Play It Again Syd Am/Can UD,WCX, Am VER,RE,SH AX,AXJ,MXP2,MJP3,MXPB,MJPB,NF,XFP, Can AgI,AgIJ

DAM

Am/Can GCH. Blacfriar A Stitch In Time Am/Can CDX, Am RE,SH,WCX,AX,AXJ,MXP8,MJP6,MXPG,MJPS,OF,MFPB,T2BP2,PAX, Can JH,WCI,AgX,AgIJ

Ch. Gamekeeper's Time And The-Bell CD

Ch. Grousemoor Dexmoors Torch
Ch. Flatford Major Obsession

GCH, Am/Can Ch. Blacfriar Play It Again Syd Am/Can UD,WCX, Am VER,RE,SH AX,AXJ,MXP2,MJP3,MXPB,MJPB,NF,XFP, Can AgI,AgIJ
Ch. Flatford Fare Forward CD

Am/Can Ch.Can OTCHX Blacfriar Amelia Earhart Am/Can JH, Am UDX,VER,RE,WCX,AX,AXJ, MXP3,MJP5,MXPB,MJPS,NF,OFP,PAX, Can WCI,AgI. AgIJ