Presents
Am/Can GCH. RACH Blacfriar Madeline Am/Can CD,JH, Am PCDX,RM4,RAE2,WCX,MX,MXJ,MXS,MJG,OAP,AJP,MFB,OFP,T2B2,SCN,SIN,DS, Can AgI,AgIJ,NP,WCI

Hall of Fame
All Round Retriever
Versatility Dog Advanced
VFCR1
Second Flat Coated Retriever in Agility in Canada 2014
Fourth Flat Coated Retriever in Agility Canada 2015
Third Flat Coated Retriever in Agility in Canada in 2016
Sire: GCH, Am/Can Ch. Blacfriar Seamus McGrath JH
Dam: GCHB, Am/Can GCH. Blacfriar A Stitch In Time Am/Can CDX, Am RE,SH,WCX,AX,AXJ,MXP8,MJP6,MXPG,MJPS,OF,MFPB,T2BP2,PAX,DN, Can JH,AgX,AgIJ,NP
Whelped: 10/17/12
OFA Eyes: FR-EYE77/43F-VPI, Hips: FR-5518E24F-VPI, Elbows: FR-EL2475F24-VPI, Patellas: FR-PA2209/24F/P-VPI, Color Tested: BBEE KBKB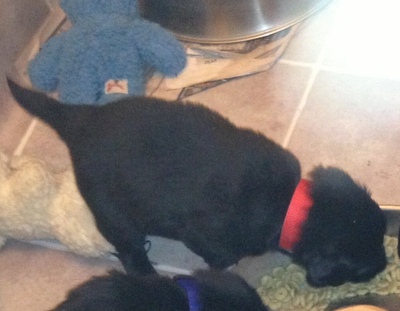 Yum, Yum, at 4 weeks!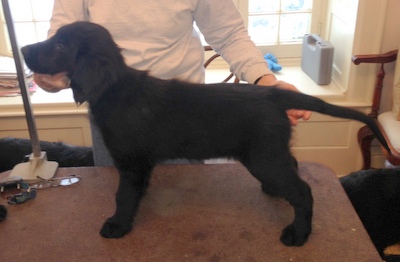 Madeline at 8 weeks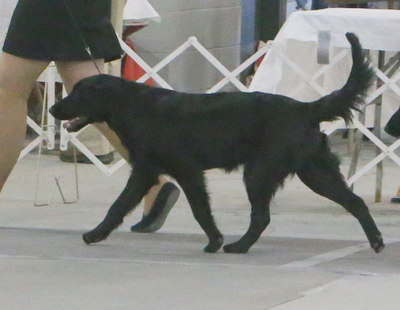 Madeline at 6 months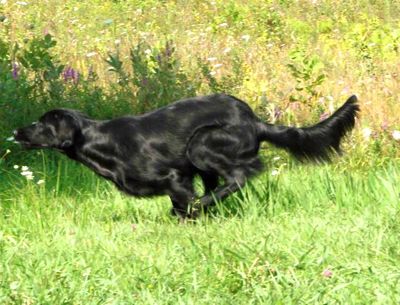 Madeline in the field at 10 months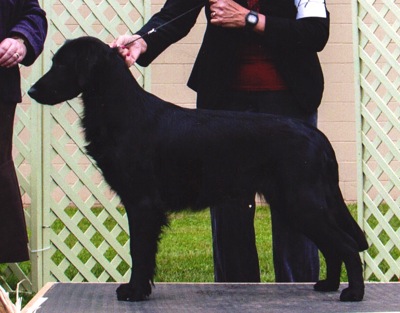 Can Ch. Blacfriar Madeline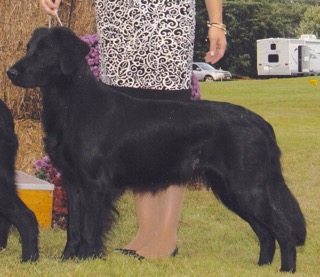 Am/Can Ch.Blacfriar Madeline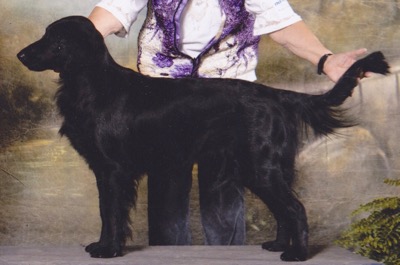 GCH, Am/Can Ch. Blacfriar Madeline
Achievements:Madeline is generally a very nice young girl who is very cooperative with everything. She's a finished Grand Champion in the USA and in Canada. And she's running agility and doing a great job at it!. But the area she's most happy and talented in is field. And at just a year plus, she got all her novice level hunting and working titles in both countries. Then she became steady and started on the path to her more advanced hunting and working titles, getting a WCX on her first try. She's a total delight to live and play with, with great potential as a working dog!
Pedigree

Parents
GrandParents
GreatGrandParents
SIRE


GCH, Am/Can Ch. Blacfriar Seamus McGrath JH

GCH, Am/Can Ch. Quillquest Etched In Stone Am/Can WC, Am RN,JH,OA,AXJ,WCX

Ch. Agrebo's Hunter CD,NA,OAJ
Ch. Quillquest Phens Born To Win CD,JH
Am/Can Ch. Blacfriar Minnie Mouse, RA

Ch. Gamekeeper's Time And The-Bell CD

GCH, Am/Can Ch. Blacfriar Play It Again Syd Am/Can UD,WCX, Am VER,RE,SH AX,AXJ,MXP2,MJP3,MXPB,MJPB,NF,XFP, Can AgI,AgIJ

DAM




Am/Can GCH. Blacfriar A Stitch In Time Am/Can CDX, Am RE,SH,WCX,AX,AXJ,MXP8,MJP6,MXPG,MJPS,OF,MFPB,T2BP2,PAX,DN, Can JH,WCI,AgX,AgIJ

Ch. Gamekeeper's Time And The-Bell CD

Ch. Grousemoor Dexmoors Torch

Ch. Flatford Major Obsession

GCH, Am/Can Ch. Blacfriar Play It Again Syd Am/Can UD,WCX, Am VER,RE,SH AX,AXJ,MXP2,MJP3,MXPB,MJPB,NF,XFP, Can AgI,AgIJ
Ch. Flatford Fare Forward CD

Am/Can Ch.Can OTCHX Blacfriar Amelia Earhart Am/Can JH, Am UDX,VER,RE,WCX,AX,AXJ, MXP3,MJP5,MXPB,MJPS,NF,OFP,PAX, Can WCI,AgI. AgIJ