Presents
Am/Can Ch. Blacfriar Minnie Mouse RA

Sire: Ch. Gamekeeper's Time And The-Bell CD
Dam: GCH, Am/Can Ch. Blacfriar Play It Again Syd Am/Can UD,WCX, Am SH,VER,RE,AX,AXJ,MXP2,MJP3,MXPB,MJPB,NF,XFP, Can JH,AgI,AgIJ
Whelped: 4/30/05
Cerf: FR-2157, OFA Hips: FR-4138G24F, Patellas: FR-PA1083/24F, Elbows: FR-EL1224F24, Color Tested: BBEE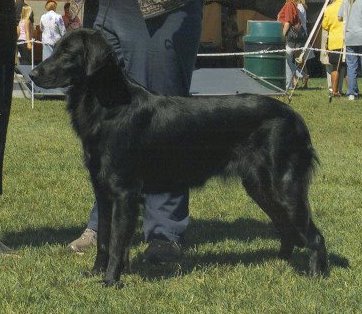 Minnie's a Canadian Champion!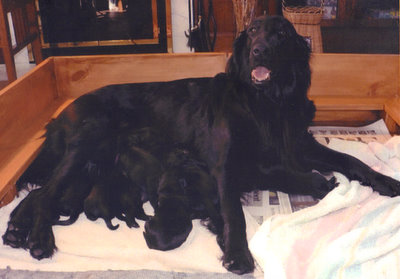 Minnie's a wonderful Mom!

Achievements:
Minnie is co-owned by me. She actually lives with the Sawers, Dan, Sharon,Alexandra and Bailey, who are her prime owners and good friends of mine. She only lives about 2 blocks from me and gets to visit very frequently. Additionally, I even get to show her and work her in obedience and she gets to play in my pool with her mom, sister, and aunts. She's a sweet wonderful girl who is very biddable and makes a lovely family dog. And she loves to retrieve and swim, even in Buffalo, even in November!

Pedigree

Parents
GrandParents
GreatGrandParents
SIRE




Ch. Gamekeeper's Time And The-Bell CD


Ch. Grousemoor Dexmoors Torch

Ch. Jemadar of Casuarina
Ch. Grousemoor Sweet Lou
Ch. Flatford Major Obessession
Ch. Snowdown Canis Major
Ch. Darkside Elegant Velvet

DAM

GCH, Am/Can Ch. Blacfriar Play It Again Syd Am/Can UD,WCX, Am VER,RE,SH, AX,AXJ,MXP2,MJP3,MXPB,MJPB,NF,XFP,Can JH.AgI,AgIJ


Ch. Flatford Fare Forward CD
Ch. Snowdown Canis Major
Ch. Darkside Elegant Velvet
Am/Can Ch. Can OTCHX Blacfriar Amelia Earhart Am/Can JH, Am UDX,VER,WCX,RE,AX,AXJ,MXP3,MJP5,MXPB,MJPS,NF,OFP,PAX, Can WCI,AgI,AgIJ
Am/Can Ch.Darktarn Blac Phineas Am/Can CDX,WC, Am JH
Am/Can Ch.Exotic Mark Of Excellence Am/Can CDX,WC,Am NJP