Presents
GCHB, Am/Can GCH. Blacfriar A Stitch In Time Am/Can CDX, Am RE,SH,WCX,AX,AXJ,MXP8,MJP6,MXPG,MJPS,OF,MFPB,T2BP2,PAX,DN, Can JH,WCI,AgX,AgIJ,NP
Best of Opposite Sex (FCRSA 2013)

Hall of Fame

All Round Retriever Advanced
Versatility Dog Advanced

VFCR2
First Flat Coated Retriever in Agility in Canada 2014
Sire: Ch. Gamekeeper's Time And The-Bell CD
Dam: GCH, Am/Can Ch. Blacfriar Play It Again Syd Am/Can UD,WCX, Am SH,VER,RE,AX,AXJ,MXP3,MJP3,MXPB,MJPB,NF,XFP, Can JH,AgI,AgIJ
Whelped: 4/30/05
Cerf: FR-2019, OFA Eyes: FR-EYE75/132F-VPI, Hips: FR-4141E24F, Patellas: FR-PA1082/24F, Elbows: FR-EL1226F24, Color Tested: BBEE KBKB a,at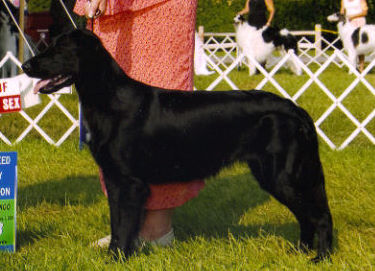 Stitch is a Champion!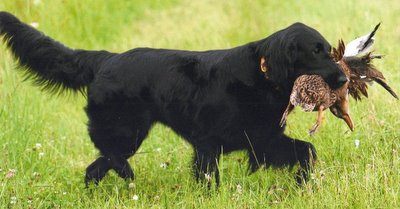 Stitch in the field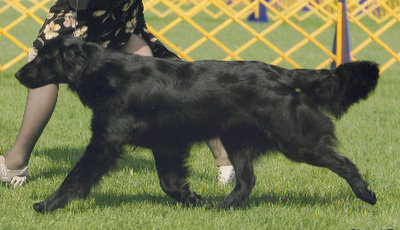 Wow! Can she move!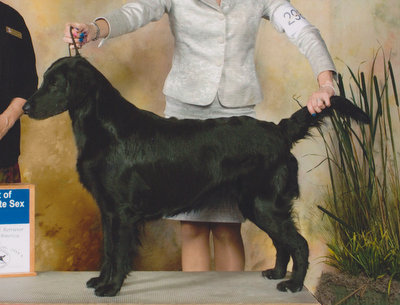 Best of Opposite Sex at the FCRSA Specialty, 2013!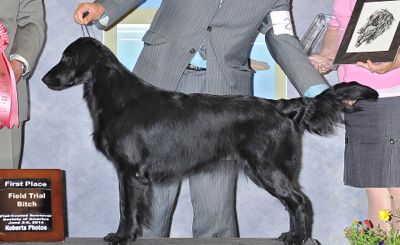 At the FCRSA Specialty in 2014 at the age of 9!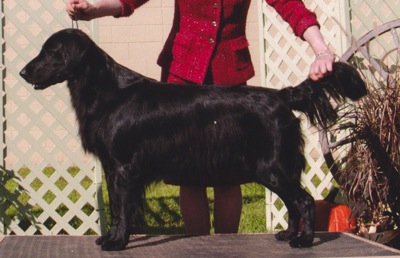 Am/Can Grand CH. Blacfriar A Stitch In Time
Achievements:
Stitch was our baby for a very long time but she seems to have finally grown up. She's had four litters of puppies and is a wonderful mother. Additionally, she is an excellent marker and has gotten her Senior Hunter. And she can run agility faster than all the rest. And in 2013 she won Best of Opposite Sex at the FCRSA Specialty and got her Grand Championship in Canada, the first Am/Can Grand Champion Flat Coated Retriever bitch ever! She's also a Hall of Fame dog! She's a very soft bitch, rarely causing any difficulty at home, and always sweet and a complete and total mush! Her beautiful face has the softest expression of all the dogs.

Pedigree

Parents
GrandParents
GreatGrandParents
SIRE

Ch. Gamekeeper's Time And The-Bell CD

Ch. Grousemoor Dexmoors Torch


Ch. Jemadar of Casuarina

Ch. Grousemoor Sweet Lou

Ch. Flatford Major Obessession

Ch. Snowdown Canis Major

Ch. Darkside Elegant Velvet

DAM

GCH, Am/Can Ch. Blacfriar Play It Again Syd Am/Can UD,WCX, Am VER,RE,SH, AX,AXJ,MXP3,MJP3,MXPB,MJPB,NF,XFP,Can JH.AgI,AgIJ

Ch. Flatford Fare Forward CD
Ch. Snowdown Canis Major

Ch. Darkside Elegant Velvet
Am/Can Ch. Can OTCHX Blacfriar Amelia Earhart Am/Can JH, Am UDX,VER,WCX,RE,AX,AXJ,MXP3,MJP5,MXPB,MJPS,NF,OFP,PAX, Can WCI,AgI,AgIJ
Am/Can Ch.Darktarn Blac Phineas Am/Can CDX,WC, Am JH
Am/Can Ch.Exotic Mark Of Excellence Am/Can CDX,WC,Am NJP